I had to talk to another kid's parents at the park today… and I was nervous
Have you ever had that moment where you feel like you just said something, but you didn't hear any sound come out?
So you repeat yourself and your voice cracks.
Well that's what happens to me when I get nervous… and when the moment presented itself and I HAD to speak up to another kid's parents at the park, I had a hard time concealing my nerves.
Most people don't know this, but I am actually a very shy individual.
For example, at a party where I don't know many people, the term "Wallflower" would be an appropriate description of me.
And let's face it, being a mom of a child with autism, many of my interactions with other parents consisted of a quick smile as I ask Olin to "stop playing the little girl's
beautiful
(usually an embellishment) hair," as the mom politely (in her opinion) ignores the whole interaction.
I had really hoped that the park wasn't too crowded this particular Saturday morning.
The parks around my neighborhood always seem flooded with children, and that just heightens my senses and puts me on worry overload.
So as we were approaching and I noticed that there were cars spilling out of the parking lot onto the street, I lightly suggested we turn around and go home to play in the yard.
My suggestion garnered immediate begging from Ruby, and painful moaning from Olin (that's when I know he is NOT a happy camper); I quickly found a spot and unloaded my precious cargo.
I found a shady bench to place myself with a view of the playground, and Olin decided park himself in the sand directly in front of me, while Ruby made fast friends with a couple of kids and went scaling the play structure repeatedly.
My boy loves the sand.
He will sit for hours just putting his hands under the sand and lifting them out so he can watch the sand slowly trickle off (put that on repeat for however long I let him sit there before I tell him to "get up and play a little"), and that seemed like today's choice of activities!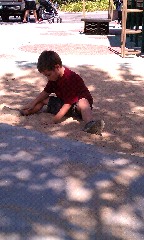 In my many observations, I can tell you that most kids seem to ignore the kid who is playing with the sand like that at a playground because they are too busy climbing, sliding, swinging, etc., so when this boy walked right over to Olin and sat in front of him in the sand, I was immediately surprised.
I looked around for the parents, because in the possible event of needing to run interference, we'd be face to face anyway… very hard to tell in this crowded park.
He asked Olin if he could play with him, but Olin stared straight ahead as if no one else was there.
The boy seemed unphased and must have taken notice of Olin's obsession with the sand, and asked Olin if he wanted to make a sand castle… again, no response… again, persistence from kid.
The boy filled the bucket with sand, then overturned it to create a perfect little mound that would be the foundation of his sand castle, and then Olin reached over and put his hands through it until it was completely demolished (I really figured the kid would give up right about here), so the boy tossed the bucket aside and did what Olin was doing – you know: hands in the sand, lift them out, yadda yadda yadda.
I smiled and wondered if Olin noticed the young boy's concerted effort to make a new friend.
A few minutes of monotonous sand trickling was all he could seem to handle, so the boy asked Olin if he wanted to go on the swings with him, which elicited a brief moment of eye contact, but nothing more.
It could have been such an easy moment for the boy to just walk away at this point and run off to swing and slide to his heart's delight, but still he stayed.
A few more minutes and the boy rose from the sand, and told Olin that he was "going to the swings, so if you want to, we can play more over there, ok?" (Adorable right?).
I looked again for the parents, but they were still blending in with the crowd.
I stared at Olin, alone once again in the sand, and he met my eyes and smiled.
I simply couldn't let this little boy go without being unrecognized for his attempt at friendship with my son.
I figured this would be an incredible learning opportunity for the boy and a great teaching opportunity for his parents… but alas, I wasn't going to approach every parent out there asking "is that your kid?"
Shortly thereafter, I saw a couple stand up and call out to their son that it was time to go, and wouldn't you know, it was that little boy.
I called out to the parents, and they didn't turn my way (revert to sentences 1 and 2), so I called out again, and they heard me and began their approach.
I told them that I wasn't sure if they noticed that their boy was trying to play with mine, but his attempts were unsuccessful, and I felt he deserved a reason.
I explained that my son has severe autism, and is non-verbal, and obviously has a difficult time socializing.
I expected a quick "Oh, okay," and a swift departure, but the parents surprised me too.
They were clearly on the same wavelength as me, and did not want to pass up this learning/teaching opportunity, and the mom took her son to another bench and started talking to him, while the husband chatted with me a little more about the soccer league their son was in (hence their reason for being at the park) and told me how handsome Olin was, and said that they love kids.
The wife finished with the son, and came over to tell me that the little boy had said he thought Olin was being shy, which is probably partially true (like mother, like son?).
I told them that I just couldn't let them leave without thanking them for clearly teaching respect and acceptance to their child.
They thanked me back, and expressed their hope of seeing us there again (parking there was horrible… not likely, but a nice thought).
I just figured that I so often open my mouth and become very outspoken when I'm defending Olin or speaking up against rude comments or stares, then why hesitate and become a bucket of nerves when I'm given the opportunity to lend positive feedback to another parent?
I think I feared that they wouldn't be understanding, wouldn't be receptive… I feared they wouldn't realize the great impact their son had made, but I gave them the benefit of the doubt, because I, like Gandhi, believe in the good of people.
I know I made a positive impact on them, and I know it gets "paid forward" from there…and I made those parents so proud of their boy, it felt goooood!
Here's some more cuteness:
Sandy fun!
I "spotted" Ruby!
King of the playground!!!!